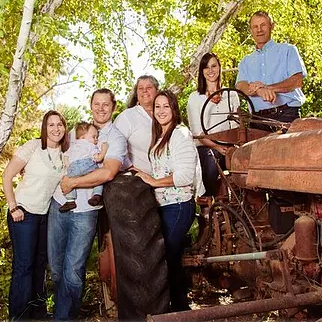 Good Humus Produce via Capay Valley Farm Shop
, ,
Email Address: order@mendolakefoodhub.com
About Us
Good Humus Produce is a small family farm, owned and run by Jeff and Annie Main. We farm 20 acres of certified organic land in a little valley called the Hungry Hollow in Northern California. We started farming in 1976 after we both graduated from UC Davis and decided we wanted to live on the land and be self-sufficient. The love of growing food, living on the less-traveled path, and doing something meaningful came from generations of strong-minded individuals. Cooperation, communities, social change, food movement, and land stewardship have been our guiding beliefs in one form or another since the 1970s.
Practices
Our windbreaks and the golden rolling hills dominate our landscape. In our eight 2 1/2 acre fields are mixed orchards, mixed California native hedgerows, cover crops, annual and perennial herbs and flowers, and vegetables. With the knowledge handed down from our parents and grandparents, we also produce unique jams and jellies made from our own fruit and herbs, dry tons of our fruit in the California sun, and make wreaths from the dried herbs and flowers.