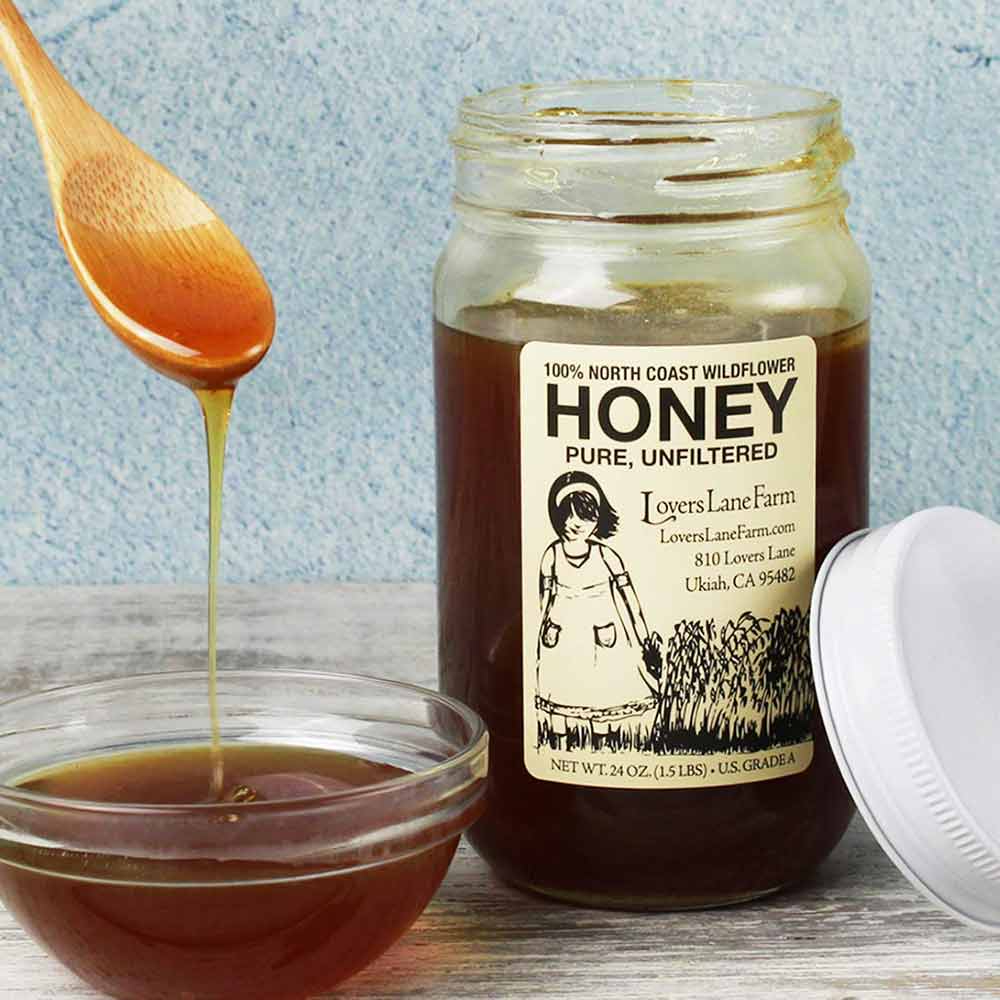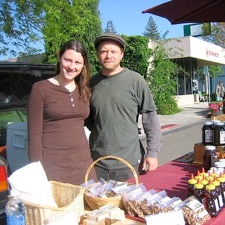 Lover's Lane Honey
Address: 810 Lovers Lane Ukiah, , 95482
Email Address: loverslanefarm@gmail.com
Phone: 707-463-2658
About Us
We are a small family farm based in the foothills of Ukiah, CA. We take pride in our honey and believe it is the finest you'll ever taste. Along with our premium honey, we seasonally offer bee pollen, comb honey, chunk honey, infused honeys and more. We also raise the most pampered pigs around, produce soap, and are constantly traveling to farmers markets in the Mendocino County area making happy customers along the way.

We love our farm and the pigs, goats, chickens and bees who live here. We are privileged to share 85 beautiful acres of rangeland in Ukiah, California with Keith's parents and grandfather. We are a true family business. Keith's parents help out a LOT. Kathy does the accounting and Rick keeps the equipment and extractors running smooth.

Life on the farm is hard but good work. In addition to farmers markets and beekeeping, we spend our time raising chickens, re-purposing the compost from our livestock for our veggies, foraging for mushrooms, and, when evening comes around, enjoying good conversations by our little pond, observing the local wildlife move through the seasons. Being this close to this land gives us a very real connection. Appreciating the rhythm of the ranch teaches us how to nurture nature's bounty through sustainable living.

Owner Keith Feigin was born and raised in Ukiah. He started the beekeeping business on his family's ranch with two goals: to create a viable local business to strengthen the economy of Mendocino County, and to bring a great local product to the tables of his neighbors.

Lovers Lane Farm established its roots under the hard work and care of Jack & Mimi Booth. In 1978 the Booths formed Cinnamon Bear Farm (a tribute to a color phase of the Black Bear that used to roam the Russian River catching steelhead and salmon). A wildlife biologist by trade, Jack applied his experience working with animals and extensive knowledge of Mendocino County's unique climate & geography to refine his beekeeping style.

With over 30 years of experience, Jack eventually became one of the most respected beekeepers in Mendocino County and set the standard for managing hives in the region. Mimi designed the honey labels, attended farmers markets, expressed her passion for artisan crafts and developed new farm & hive products.

Keith learned the ropes from Jack Booth. As a boy, Keith would follow him to his hives, hoping to get a taste of honey as soon as it started flowing from the spring vetch blossoms. Besides a thick skin for bee stings, he developed an appreciation for the way the taste of honey changes from season to season and from hive to hive.

Keith's first summer job was harvesting Cinnamon Bear Farm honey. He also rendered their wax and made all their candles & wax ornaments in the fall. Jack kept bees on the land that is now Lovers Lane Farm, starting around 1992 (when Keith was about 13), which furthered his exposure and interest in bees.

Although now retired, Jack has a hard time distancing himself from the bees. He can still be found riding along in Keith's truck to inspect hives purely for enjoyment, especially in the springtime. Every beekeeper would agree this is the most exciting and busy time of year to be a beekeeper. Keith doesn't mind as there is always something more to learn from his mentor.

Today, Lovers Lane Farm harvests small batches of gourmet honey from the mountains, valleys and orchards of rustic Mendocino County. By placing the hives strategically among the seasonal flower sources and numerous distinct climates within the county, Lovers Lane Farm produces an array of flavorful honeys. Each batch tastes unique year after year depending on the weather, soil and plants in the immediate area of the hive.
Practices
No chemicals or pesticides are used in the production of Lovers Lane Farm honey. It is pure, unfiltered and unprocessed, using only gravity flow to move it.