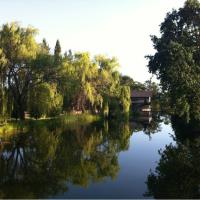 McFadden Farm
Contact: Guinness McFadden
Address: 160000 Powerhouse Road Potter Valley, CA, 95469
Email Address: sales@mcfaddenfarm.com
Phone: 707-743-1122
About Us
Born and raised in New York City, Guinness McFadden came to this peaceful place in 1970. After Notre Dame, ten years as a Naval officer, and a stint at Stanford Business School, he decided against a future in pin-striped suits and city offices to seek out a new living in the country. He found that and more. The mcFadden family settled into a life of hard work and enviable happiness on this special piece of ground.

Guinness McFadden has set up a healthy, sustainable relationship with the 500 acres of land he stewards. Not only does he raise his food organically, he practices energy, water, and material sustainability. McFadden Farm has an operating hydroelectric power plant and solar panels providing more energy than the farm needs.
Practices
At the farm Guinness has and continues to practice only organic farming, of herbs, vineyards, and even cows. Using only natural, organic compost, along with organic winter crops such as winter peas and other inputs into the soil. McFadden Farms is Certified Organic through CCOF.