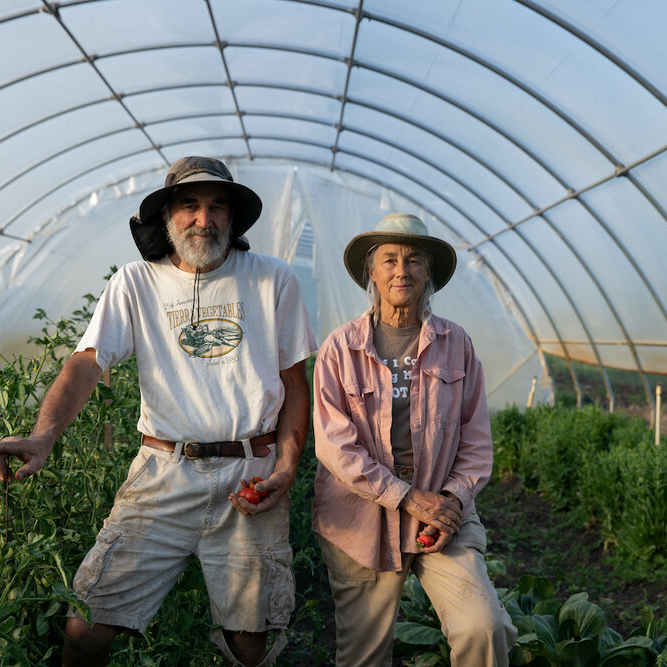 Tierra Vegetables via FEED Sonoma
Address: 399 Business Park Ct. #312 Windsor, CA, 95492
Email Address: orders@mendolakefoodhub.org
Phone: 707-544-6141
About Us
Tierra Vegetables is committed to producing food and fiber products of the highest quality through sustainable farming practices.

Lee and Wayne James are a sister and brother farming team growing food on a 20-acre farm in Santa Rosa, California located in the heart of the Sonoma County Wine Country just 70 miles north of San Francisco. This brother and sister team has been farming since 1980 and needless to say they know how to grow an excellent carrot.

In addition to growing diversified and unique market crops and some of the sweetest strawberries in the county, the farmers also specialize in a vast array of chiles and sweet peppers, dried beans, and dried corn varieties for popcorn, cornmeal and masa.


Practices
Sustainability is the optimal status that the farm strives to achieve with each new and very busy day. Not only do the environmental practices applied to the fields demonstrate this, but also the broader integral interaction with the community is undeniably a core component of the farming system.

We build soil health through crop rotation and the practice of recycling mineral nutrients via composting. We farm cooperatively with the "pests" that arrive each year. We also feed our animals with excess crops to sustain them as well.

We recycle, reuse and repurpose through our system of rainwater irrigation in the greenhouse as well as our innovative practice of processing and preserving the harvest in our commercial kitchen, providing canned, frozen and dried products to enjoy throughout the year.

We teach sustainability when farmer Wayne takes school groups on a tour of the fields brimming with educational outdoor opportunities, as well as fellow farmers who come for tours and a supportive information-sharing consultation.

Through the efforts and resilience of Wayne and Lee James, both experienced and committed farmers, Tierra Vegetables provides sustenance from the crops that are grown as well as sustaining the employees and their families with a fair living wage, enabling them to grow and prosper within our county.

When you come to Tierra Vegetables for the food that sustains you, we welcome that support as part of an investment in keeping the cycle of farming alive, allowing us to grow and harvest another season of abundance.

In this practice of sustainability we are all committed to one another for our survival and prosperity: the land, the people, and the environment.

What is the True Value of This Diverse Farm?


Tierra's vegetables are not dirt-cheap because dirt is not cheap. Our fresh, local, farm-grown produce has quality and value attached to it within a world that competes for fast, cheap, easy to buy and easy to discard.

Nestled amidst a sea of vineyards practicing mono-crop farming, we pay our labor to nurture and plant seedlings individually and to weed by hand. Competing in a world of global goods and services driven by fossil fuels and vast energy investments, we strive to preserve everything from heirloom seeds to the soil with our own hands and ingenuity. Chemical fertilizers, pesticides and GMOs do not exist in this local ecosystem.

Year in and year out we invest in the health of the land so it does not become exhausted and our food continues to grow strong, beautiful and flavorful thereby offering health and nutrition to our people, the people who rely on this land for their health and their livelihood. When you invest in the health of Tierra Vegetables, it is an investment in the value of your health and the health and well-being of your family.

Take a moment to look at the satellite map of Tierra Vegetables, what do you see? You see an island of bio-diverse greenery, an open space, and an opportunity to obtain healthy and nutritious fruits and vegetables to feed your family.

Valuable is the land that is not built upon, but remains available to absorb rainwater that percolates back into the soils and recharges the groundwater and aquifers beneath us. Valuable is the view of the historic white barn saved by us from demolition in the name of progress, and placed into functional reuse within our community. Valuable are the bees that roam our crops for the nectar of their sustenance alongside us. Valuable is your ability to visit these bees any day you come and visit us. Valuable is the green waste we divert from the landfill when we accept local materials for composting.