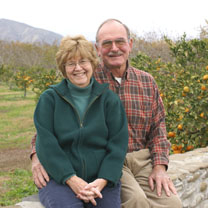 Gold Oak Ranch via Capay Valley Farm Shop
Address: 15274 Rd 42 Guinda, CA,
Email Address: order@mendolakefoodhub.com
About Us
Gold Oak Ranch, managed entirely by David Scheuring, comprises several hundred acres in three units. Our main crops are walnuts, almonds, Satsuma mandarin oranges, extra virgin olive oil, and asparagus. We use both certified organic and conventional production practices, and are transitioning where we can to more organic production. We are constantly looking for ways to improve our operations and make them more sustainable. In the Capay Valley we like being part of the riparian environment along Cache Creek and find that our farm is very popular with birds and wildlife!