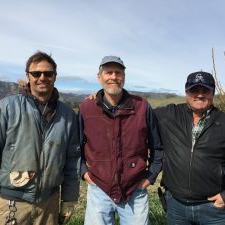 Terra Firma Farm via Capay Valley Farm Shop
, ,
Email Address: orders@mendolakefoodhub.com
About Us
Terra Firma is located in beautiful Winters, CA, one of the oldest fruit and vegetable-growing regions in Northern California. Because of its high annual rainfall, rich soils, mild weather, year-round creek, and location just about 70 miles from San Francisco, Winters has provided urbanites in the Bay Area with fresh produce for over 100 years.

We farm a number of sites along the north and south banks of Putah Creek, totaling about 200 acres. Microclimates and different soil types allow us to produce almost 100 different crops each year, including spring, summer and winter vegetables as well as stone fruit, citrus and nuts (pistachios and walnuts). We have two distinct seasons here: dry and hot from May-October, and cool and wet from November-April. There are very few crops we can't grow in Winters for at least part of the year, and the majority of the items in our boxes every week come from our own fields and orchards.

We are blessed with a reliable, clean, and sustainable water supply. The Blue Ridge Mountains to the west of Winters are the watershed for Lake Berryessa, the source of water for the Solano Irrigation District (SID) canal that supplies much of our irrigation water as well as drinking water for the cities of Fairfield and Vacaville. Since the Monticello Dam was built in the 1960s, SID has never run out of water. The lake is also the source of Putah Creek, which irrigates our fields located along its banks, and recharges our groundwater wells.

Practices
Our farming practices do not just follow the letter of the National Organic Program law or the minimum standards set by our organic certifier, CCOF. Rather, in the spirit of the organic farming movement, we continually strive to practice ecologically sustainable agriculture that protects and builds the soil, provides habitat for wildlife, conserves energy and water, and produces healthier, more nutritious fruits and vegetables.

Terra Firma also has a commitment to providing sustainable employment and encouraging local economic development. We provide full-time, year-round employment for our workers. We employ roughly ten times as many people per acre as most farms in our region. By selling, packing, and delivering our products ourselves (adding value) we are able to offer a range of jobs that allow employees to move vertically as their careers progress