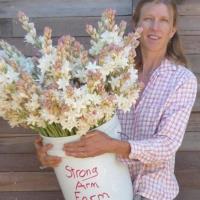 Strong Arm Farm via FEED Sonoma
City: Santa Rosa, ,
Email Address: order@mendolakefoodhub.com
About Us
Heidi began Strong Arm Farm in 2009. Originally with a focus on mixed annual vegetables, now offering 2 main specialty crops: Seaweed and Tuberose. Heidi is a Sustainable Agriculture Instructor at Santa Rosa Junior College, at their renowned Shone Farm facility. She has an Ornamental Horticulture degree from Cal Poly University, with emphasis in pest management and nursery production, and a Master's from Sonoma State University, thesis: Experiential Agriculture Education. She teaches 'Native Plants in Restoration' focusing on habitat/mitigation plantings at Sonoma State University. Running Strong Arm Farm is truly a 'practice what you preach' example. Heidi is a strong-armed woman producing an array of beautiful and nutrient-dense delectables. Hear more in this podcast interview.