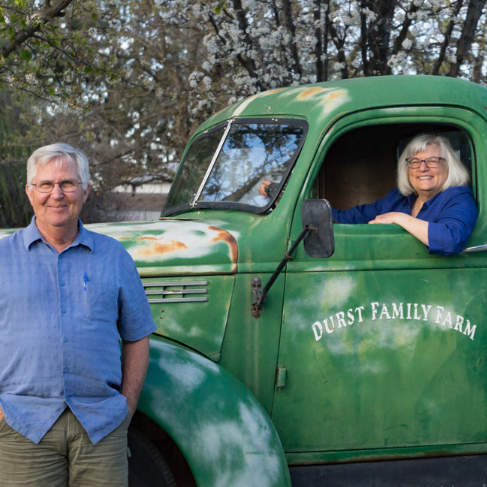 Durst Organic Growers via Capay Valley Farm Shop
, ,
Email Address: orders@mendolakefoodhub.com
About Us
The Durst family has been farming in the Yolo county area of California since the late 1800's. While the previous three generations focused on large-scale commodity crop farming, Jim and Deborah Durst have become known for their focus on fresh market organic produce. They planted their very first organic crop, processing tomatoes, for Muir Glen in 1988. They soon branched out to other crops like organic alfalfa, sunflowers, sugar beets, and grain. By 1989 they were growing their first organic, fresh market tomatoes and mixed melons, which they sold into Bay Area markets. Since then, they have continued to grow a mix of organic fresh market and commodity crops. Along the way they have added a few other Durst favorites, including their asparagus, which they first planted in 1997. In 2000 Durst Organic Growers discontinued growing processing tomatoes, and decided to instead focus on fresh market heirloom and cherry varieties along with asparagus, melons, and squash.

From the beginning, Jim and Deborah have worked hard to build a conscious, ecologically minded business where both people and planet are treated respectfully. They care deeply about the health and wellbeing of their consumers and employees and consider this greatly when making every little decision in the growing of their crops. When you taste Durst produce, we hope you can taste the difference, because as Jim says, "If it doesn't taste good, what's the point?"
Practices
We believe farming should work in conjunction with the natural world, not against. With every decision we make on the farm, we keep in mind our long term goal of leaving the land better than how we found it. How do we do this? Generally speaking, we do so by returning to the soil equal or greater of that which we use from the soil to grow our crops. We look for innovative, organically-approved methods for treating our weed, pest, and nutrition problems. We plan ahead, and employ preventative practices whenever and wherever we can. We adopt methods that allow us to conserve resources when possible. We pay our employees fairly for their hard work and expect a high caliber of professionalism and care in return. Ultimately we work daily to create a farm and workplace that we not only can feel good about, but that provides real (tasty) results.